Juniors/Senior Football  Enquiries
Chris Beynon
Email : geelongbuccaneers@gmail.com
Sponsorship
Email: geelongbuccaneers@gmail.com
Or contact us on Facebook : www.facebook.com/GeelongBuccaneers
Home Field @ Corio Community Reserve, 20 Hendy Street Corio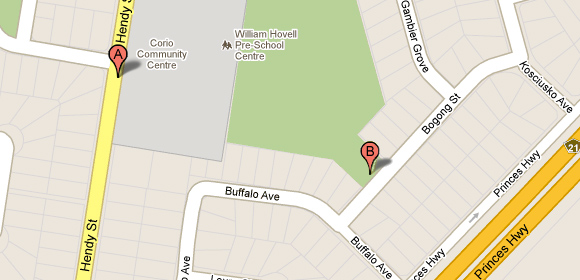 Players and Supporters can enter Via Bogong Street (Marker B) in Corio. You can park around our field giving you the best view of the games from your vehicles.
Officials, Medics and Coaches can enter via Hendy Street (Marker A) car park if they so wish.
Banking Details
For club fees and other payments to the club, please use the following details:
Account Name: Bay City Buccaneers Inc.
Account BSB: 063 633
Account Number: 1027 3832
For general enquiries, please complete the following form:
Comments or questions are welcome.