THE Geelong Buccaneers are hoping a mix of experienced veterans and exciting youth can again have them challenging for a Vicbowl in season 2016. Following a disappointing year in 2015, where the team finished with a 6-6 win-loss record and a first round playoffs defeat, the new season brings renewed hopes of contending for a trophy.
Under new coach Brendan Bowe, whose experience will help the Buccs in all three phases of the game, the squad is more focused and driven after a tough and lengthy preseason. Whilst Bowe brings with him a new playbook, he also yields a player-friendly mentality, which the team has responded too thus far in pre-season.  The preseason highlight was a chemistry-building football camp at Anglesea that saw the team grow in both on-field and off-field performance.
Offensively, the Buccaneers have a number of new tools at both receiver and running back. The three-pronged backfield of two-time league MVP Daniel Barnett, Elliot Webb and Daniel Tinitali provides newfound depth and talent at the position, which is fronted by versatile big men Michael Khair, Ricky Young, Jordan Pigott and Sam Martin on the offensive line. Veteran Daniel Noonan returns under centre, playing his 12th season for the team. Leading receiver Matthew Lawrance is back to his best, after a hamstring tear in the playoffs last year.
On the Defensive side of the ball, Layke Rossiello again serves as the team's leader at line-backer. He is joined by newcomer Matt Fiscalini and the experienced Brad O'Toole. The team's secondary looks to be a strength, with Tom Bean and Oscar Godsell bringing knowledge from playing time in America, whilst Michael Fox returns to the squad. A number of new cornerbacks including Jacob Taylor and Christian Suan have fitted into the team seamlessly.
For the Buccaneers it's time to see if the hard work will pay off, season 2016 serves as an opportunity to right the wrongs of seasons past, and stamp their claim as a Gridiron Victoria powerhouse .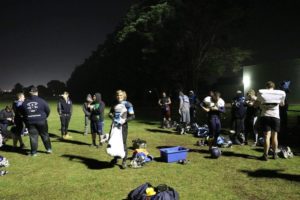 The Buccaneers open their season this Sunday against the Berwick Miners in Endeavour Hills. Kick-off at 2pm.