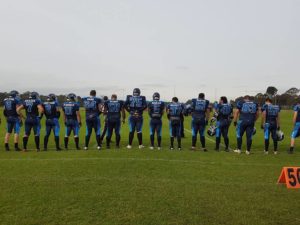 FIRST year Coach Brendan Bowe has kicked off his coaching year in style, with the Geelong Buccaneers runaway winners over the Berwick Miners 47-0 on Sunday. Running back Daniel Barnett starred for the Buccs, running for over 150 yards and scoring 3 touchdowns. Safety Michael Fox provided the spark for the defence, with two interceptions.
The Buccaneers put the game away early, scoring 27 points in the first quarter. The expansive running game was on display, as Barnett, Daniel Tinitali and Chris Beynon all saw touches of the football in the first few Buccaneer drives. Tinitali and Beynon both rushed for 60 yards, reinforcing the versatility the team has on the ground. Not to be outdone, receiver Matthew Lawrance caught two touchdowns, and added 70 receiving yards in the process.
Defensively the Buccs were stout, keeping Berwick scoreless. The Miner's never really threatened to score, with the two occasions they ventured into Buccaneer territory coming off the back of a long kick-off return, and a defensive pass interference penalty.
Whilst the Buccs started the game with more than double the Miner's numbers, they were forced to contend with the lack of key players. Oscar Godsell performed admirably, stepping in at middle line-backer to cover for the absent Layke Rossiello and Brad O'Toole.
With a 34-0 lead at half time, Bowe took the opportunity in the second half to give decent playing time to depth players. Whilst experience issues were on display, Bowe overall, was happy with what these players showed.
"We took the opportunity to blood the rookies and give decent game time to backups. The coaches had a great chance to see what all players had to offer."
A weakness of the team in the 2015 season, special teams also showed signs of considerable improvement. Although Bowe was happy with the Buccs performance in this phase of the game, he will reserve judgement to see if the high level of play continues.
"They (special teams) were a definite improvement on last season, and I'm hoping that continues from week to week."
Whilst the performance was encouraging for the Buccaneers aspirations come seasons end, Bowe remained focused on where the team is at.
"A great start to the season but its only week 1. We still have much more hard work to do and improvement to come, and I expect we will be fully tested this week against the best team of recent years."
The Buccaneers head to Bendigo on Saturday, to face the Monash Warriors at 3pm
Daniel Trevaskis