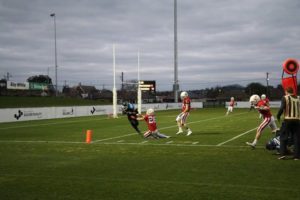 THE Geelong Buccaneers have fallen to their second consecutive loss, losing a defensive struggle 10-6 to the Western Crusaders in Ballarat. Although the team was able to score a late touchdown through Jamie Robertson, they were unable to recover a last ditch onside kick attempt, condemning them to 1-2 on the season.
The Buccaneers were unable to get their ground game going, as the Crusaders ability to stop the run proved crucial in the final result. Daniel Barnett had statistically his poorest showing so far this season, running for 65 yards, whilst secondary running back Chris Beynon was held to just six yards on the day. The passing game didn't fare much better, as receiver Matthew Lawrance was restricted to 29 yards on three receptions and quarterback Daniel Noonan completed just 50% of his passes.
Head Coach Brendon Bowe was left irritated with the team's performance.
"Today was a really frustrating day. I'm looking for reasons as to what the offense was doing in the first half. Once again the defence kept us in the game; in fact they were brilliant all day. It was pleasing that the offence got going, but it was too late," he said.
The Buccaneers were kept scoreless in the first half, making it two weeks in a row the team has struggled to move the ball offensively.
"I am happy with where the schemes and systems are at. I think the boys need to develop more self-belief and want, to rectify our offensive struggles," Bowe said.
Positively for Geelong, the defence was again stingy. They kept the team within striking distance throughout the day, and came up big at important stages, forcing four turnovers on fourth down. Brad O'Toole was again the leader, with eight tackles at middle line backer, whilst rookie Christian Suan made two monster hits, reminiscent of a player ten years his senior.
Although the season is only three weeks old, the injury list is starting to mount for Geelong, with 12 players being unavailable for selection for Saturday's game. Bowe admitted that this trend is starting to become some cause for concern, although he believes with the entire team on the park, they can regain their winning ways.
"Injuries are taking their toll and that does worry me to an extent. Although when we get back to full strength, which we will, we will be a force to be reckoned with, we just have to believe we can do it."
Geelong (1-2) hosts the South Eastern Predators (1-1) in their first home game of the year, at 2pm on Saturday, in Geelong.
https://www.facebook.com/events/296653490723174/
Daniel Trevaskis