MATCH REPORT: Relentless defence sees Geelong past Predators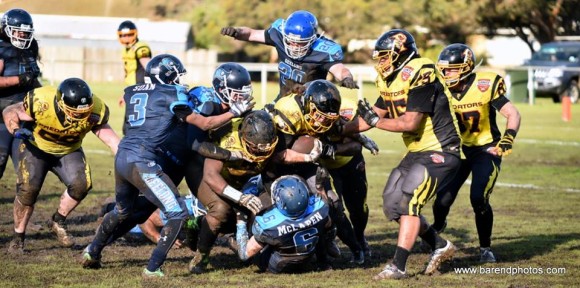 Another impressive performance from the Geelong Buccaneers defence has seen the team end their two game losing streak and return to an even record (2-2) on the season. With the field being in anything but ideal shape following heavy rain, the final score of 14-6 was the type of low scoring affair that many had predicted.
Despite the Predators scoring an early 80 yard touchdown on a reverse, the Buccs were able to answer through Jamie Robertson, and take an 8-6 lead into half time. The second half was dominated by both defences, with Daniel Barnett finally breaking through in the third quarter, to put the Buccaneers in a winning position.
Quarterback Daniel Noonan threw for a touchdown and a successful two point conversion, whilst running back Daniel Barnett was a workhorse all day, running for 72 yards on 23 carries. Chris Beynon was again Mr Versatility for the Buccs offence, as he ran the ball on five occasions, and caught two receptions for 37 yards.
With the team only scoring 14 points, it was unknown whether or not the offensive struggles that had plagued the Buccs in recent weeks had been fixed.  Coach Brendon Bowe concluded the environment and opposition were predominantly responsible for the low score.
"It was another tough game yesterday which was not helped by the terrible conditions. It made it hard for the offense, but again we were sluggish out of the box. We didn't make the most of our opportunities and field position, and for most of the game, we were dictated to by their defence, who were impressive," Bowe said.
It was another strong outing for middle line backer Brad O'Toole, as he not only posted another seven tackles, but also registered a sack and a forced fumble. Alex McLaren added a further five tackles whilst making a sack himself, and in his first game back since the 2011 Vicbowl, David Felvus made four tackles, fitting in seamlessly to the Buccaneers defence. Michael Fox lead the secondary, adding another two interceptions to take his total to four on the year.
"The defence as they have been all year were disciplined and miserly. The only score they let in was due to missed assignments and missed tackles, something that I am sure they can rectify in coming weeks," Bowe said.
Although Bowe is happy the Buccaneers are back on the winning track, he concedes greater challenges are still to come.
"We came up big when we had to, and though it was ugly, a win is still a win. We can't turn back the clock, only learn from the past and move forward. We have to start better next week against last year's champions, or we will struggle to get back into the game."
The Buccaneers (2-2) travel to Croydon to take on the Rangers (2-1) on Saturday, at 2pm.
Daniel Trevaskis